Article n°11
Cristallerie de Montbronn puts on rose-coloured glasses
🎵I'm a Barbie girl, in a *crystal* world 🎵
The highly anticipated Greta Gerwig Barbie movie will lighten French theaters with pink and sparkles on July 19th. To this occasion, Cristallerie de Montbronn decides in this summer month to celebrate the most famous of toys by dedicating to it its monthly blog article.
During an interview with Architectural Digest, visionary director Greta Gerwig reveals that the movie's famous "Barbie Dreamhouse" was heavily inspired by Palmsprings' mid-century modern architecture, namely the "Kaufmann House", designed by famous Austrian architect Richard Neutra in 1946. 
That being said, Barbie also means pink ; which brings us to a 3-story fuschia fantasy. Moreover, the recent resurgence of Y2K aesthetics and "Barbiecore" in fashion raises the question of retro and pink in interior design.
So be ready for a dive into a world that literally wears rose-coloured lenses by discovering our selection of crystal products that remind us of the iconic Mattel doll's mid-centurist fuschia fortress.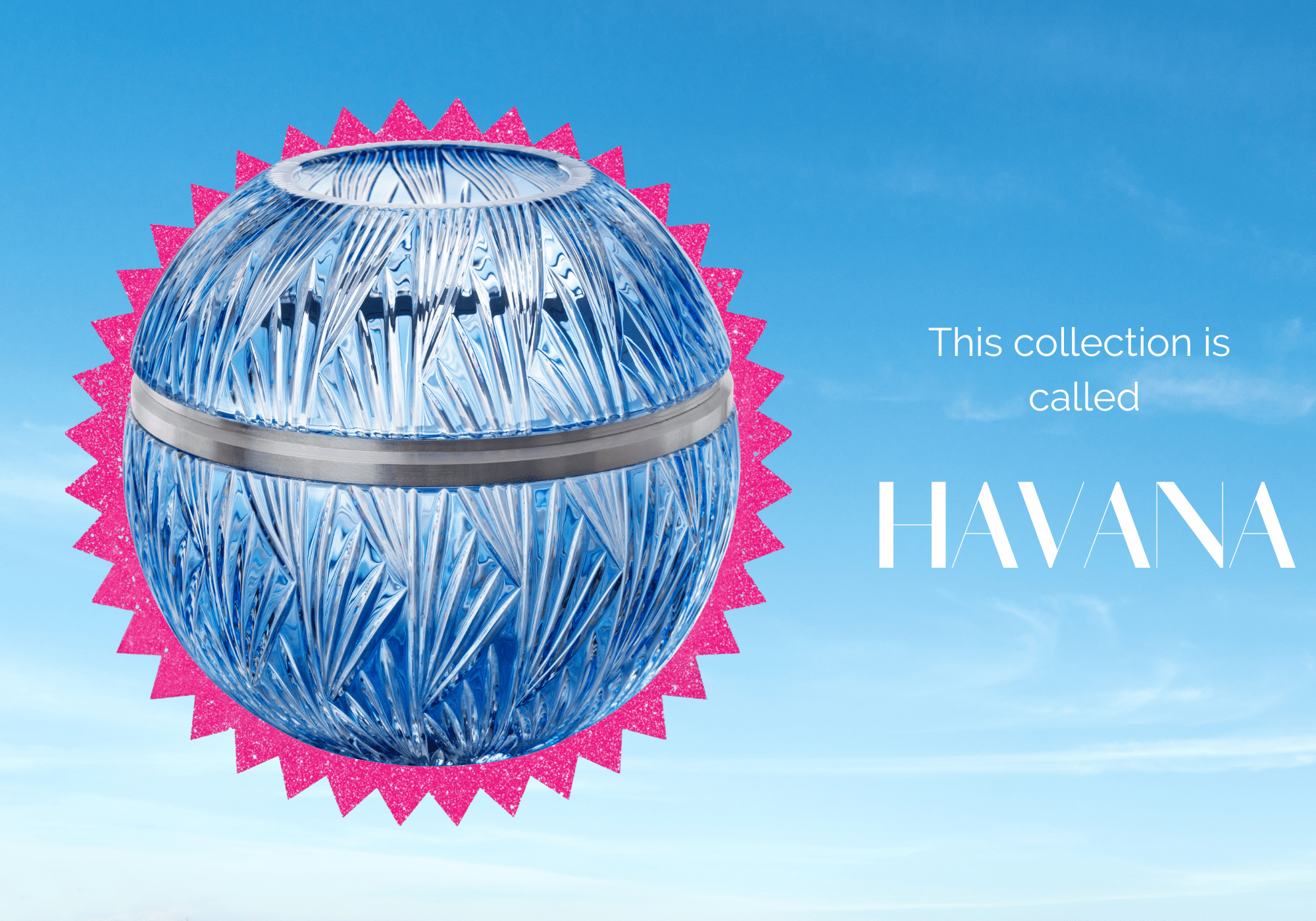 Havana blows a vacation air directly into your home thanks to its unique summer inspiration
Havana
Named after the exotic Cuban capital, the Havana design is inspired by the Cuban bay in its tropical design. Inspired by local palm trees, the décor of the piece pronounces a delicately modern geometry. A touch of sandblasting is added to the cutting, imitating the beige softness of Caribbean beaches. Motifs that clearly take inspiration from the mid-century modern and coastal houses and that will perfectly fit in to the blonde doll's decoration.
When used in art and design, pink generally depicts a sense of vibrancy, beauty and warmth. Light pink represents elegance, femininity and refinement, while hot pinks can represent appreciation and recognition. Pale pinks evoke joy and softness, while red roses convey true love, passion and desire.
Our pink colour is a particularly light and elegant shade that also evokes hints of the colour "champagne", bringing to mind the effervescence of the drink. Thus, our rose also evokes feelings of joy.
Check out the collection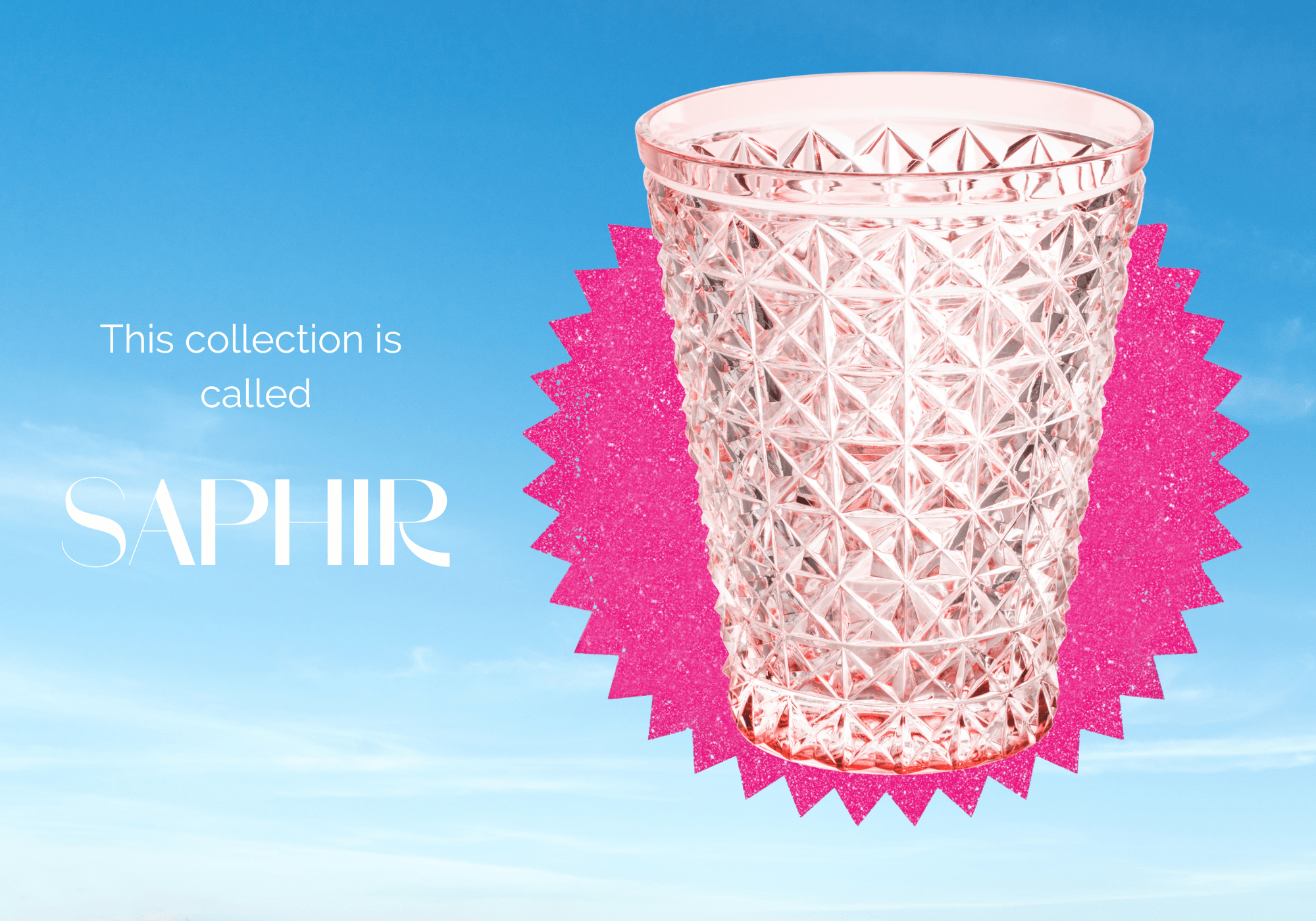 To dazzle everyone's eyes
Saphir
There are numerous complementary colours to pink, such as spring green that is found everywhere in nature. While most of pink shades have sufficiently soft pigments allowing them to match well to most colours, soft blues, yellows, greens, and whites are to favourize. It is preferred not to match pink to over-saturated colours at the risk of creating a heavy feel. However, if you're like Barbie, you can never have too much pink!
In the soft effervescence of the mid-season, the Saphir collection by Cristallerie de Montbronn lights up any room with its splendour. Cut with unparalleled virtusosity, each diamond composing the glass incarnates the absolute perfection needed for this season's inspiration and renewal. Blinding every sight, Saphir perfectly reflects the flashy side of the movie's eponymous character in its thousand-and-one crystal diamonds and their unique refractory qualities.
Check out the collection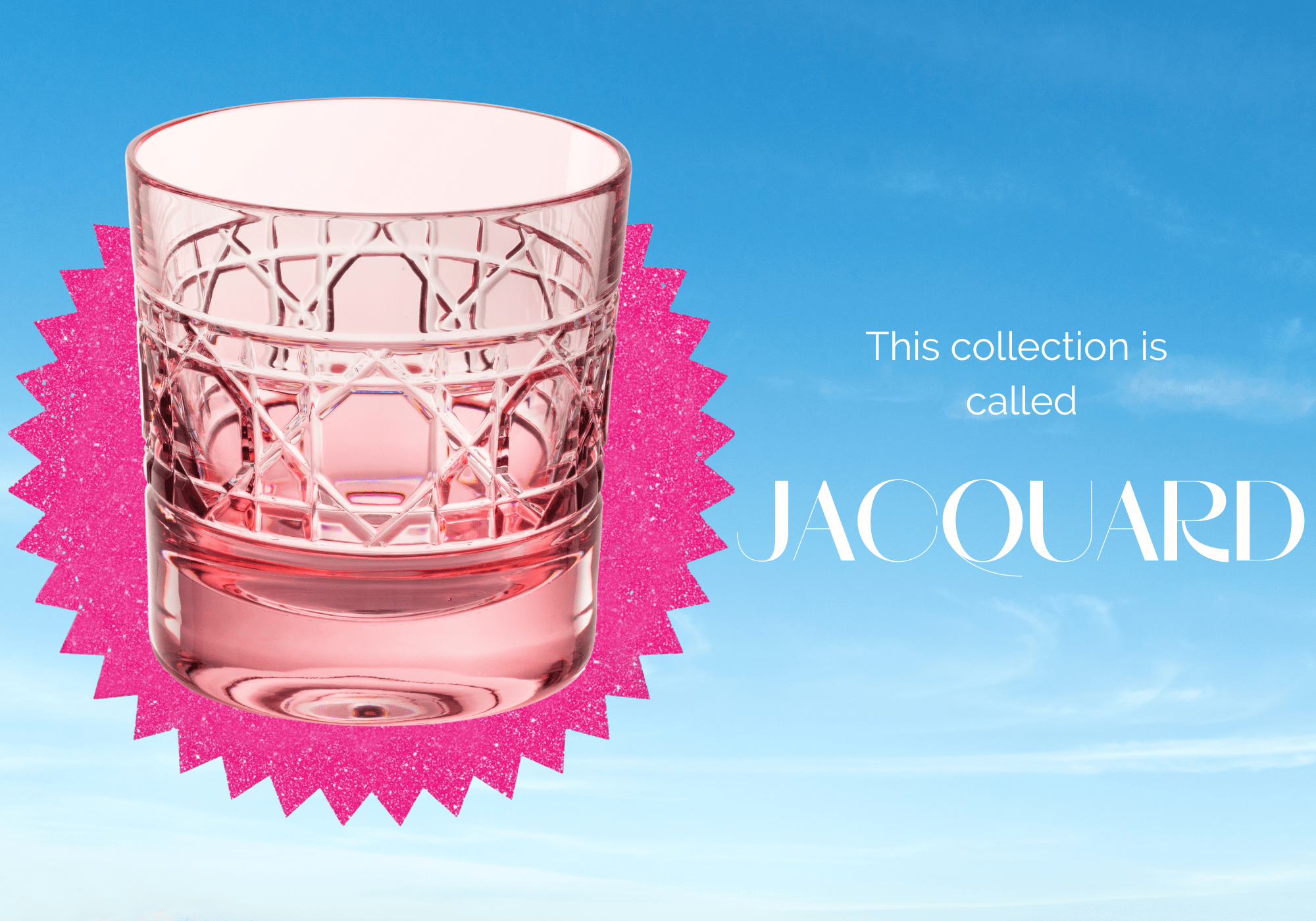 An ode to beauty and elegance
Jacquard
The origins of the pink colour, more known in latin under the name rosa, come directly from the eponymous flower. That being said, there are lots of different roses, with colours varying from classic reds to light pinks, and a full, rich and naturally elegant colour range. A "Dictionary of Color" by Paul and Maerz suggests that the first use of the word "rose" to define its colour dates back to 1392.
An ode to beauty and elegance, the Jacquard collection by Cristallerie de Montbronn is a real celebration of feminine luxuriance that blossoms in an explosion of colours and textures in your interior. Inspired by Art Déco and the famous Dior canework motif, the three-dimensional decor of each Jacquard piece is an invitation to contemplate the wonders of nature in full bloom, and when linked to our pink's pastel, evokes the rebirth of the season. Our new Barbie is not a stranger to the world of luxury and dresses in a full high-end wardrobe throughout the entire movie, and would undoubtebly fill her interior decoration with our Dior-inspired glasses. In addition, Jacquard embraces golden July's vitality and energy and finds itself to be a perfect candidate for your summer table dressing.
Check out the collection
Celebrate life
All in all, the arrival of Summer is the perfect occasion to try new things in terms of interior decoration. Cristallerie de Montbronn invites you to celebrate the summer season by filling you interior with colours.
Just like Barbie, don't be afraid to celebrate the things you like in a sparkling way.